Controlled Flow

To ensure proper distribution of grain into the Magik Kleener, all units must be installed with a minimum of 24" straight down fall into the center of the flanged opening on the top.
The screen gates are one of the most important parts of the Magik Kleener. When used correctly, the gates can prolong the wear on the unit, by cushioning, grain on grain as it enters. The gates allow the grain to spread and flow over the entire screen in a column the same depth as the gate opening all the way through the screener. This cushioning and even distribution of the grain ensures the best farm and commercial grain cleaning performance.
The gates on the (LP) Low profile units need to be set 1 1/2" to 2".
The gates on the (STD) Standard units need to be set 2" to 2 1/2".
The MAGIK KLEENER allows you to: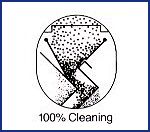 Clean 100% of the grain flow.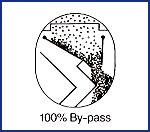 Adjust the gates to let 100% by-pass the screens (when grain is wet or doesn't require cleaning).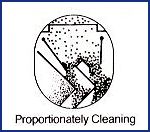 Adjust the gates to let part of the flow pass over the screens and the other part by-pass (when only a certain percentage of the foreign material needs to be removed).